Are judges allowed to endorse if they're not on the ballot this year?
March 29, 2022 at 11:02 a.m.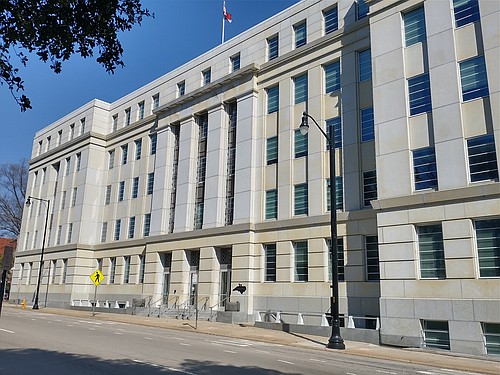 ---
---
Are sitting judges allowed to make campaign endorsements?
That debate has caused some confusion and drama in recent weeks involving the N.C. Judicial Standards Commission, which enforces the codes of conduct for state court judges.
The rules are clear that judges can't endorse candidates – unless they are also candidates for judicial office at the time of the endorsement. But there are some conflicting interpretations about whether that applies to judges who aren't on the ballot this year but may seek re-election in the future.
Supreme Court Justice Phil Berger Jr. falls into that category. He's not up for re-election until 2028, and he's publicly endorsed Trey Allen in the GOP primary for Supreme Court. The same would go for Court of Appeals Judge Jeff Carpenter, who's endorsing Beth Freshwater Smith in a primary against his court's chief judge, Donna Stroud.
A memo posted earlier this month to the Judicial Standards Commission website suggests that endorsement isn't allowed. "Endorsements should only be made when a judge is a bona fide candidate actively engaging in campaigning during his or her election cycle," the memo said. "Otherwise, the rule prohibiting endorsements … would be rendered meaningless except as to special superior court judges and other judges unable to run for re-election."
A few days later, a new version of the memo was posted with those sentences deleted. Instead, the new version gives judges several options to establish their candidacy and therefore allow for endorsements, including accepting campaign contributions or sending a letter to the standards commission saying that they'll run for election.
Under that interpretation, Berger's endorsement is likely OK because his campaign finance records show he received two donations last summer. But Berger's colleague, Chief Justice Paul Newby, has to tread more carefully because he'll hit the mandatory retirement age before his current term is up.
Newby is widely believed to be backing Allen's campaign as well. Allen highlights his close professional ties to the chief justice, and Newby's wife is one of his top contributors. But he's avoided making a direct endorsement.
The kerfuffle over the endorsement rules was first reported in an opinion column by Ned Barnett of The News & Observer. Barnett cites unnamed sources who told him Standards Commission executive director Carolyn Dubay was "pushed to resign" over the original memo.
On Monday, court system spokesman Graham Wilson confirmed that Dubay is resigning effective May 31 but he said he "cannot provide" a resignation letter. She has worked for the commission since 2016. 
Wilson did provide an email from commission chairman Chris Dillon, a Republican judge on the Court of Appeals, who explained the differences between the two memos.
"After a closer read, we realized that the draft contained some ambiguities that might cause some confusion for some around the state," Dillon wrote. "For instance, our use of the term 'cycle' in that draft to describe when a judge could be considered a candidate was not intended to restrict a judge from acting as a candidate within that judge's 2-year campaign cycle, as this has never been the understanding."
Dillon said the new version of the guidance "essentially tracks" a memo issued by his predecessor as chair, Court of Appeals Judge (and Democrat) Wanda Bryant, in 2020.

Rep. Marcia Morey, D-Durham, highlighted the Standards Commission drama on Twitter and said it's an example that "a fair, impartial independent judiciary is at risk in NC."